The Polish Studios for Conservation of Cultural Property S.A. offer complex conservations of architectural monuments and pieces of art.

Architecture Conservation

Comprehensive conservation of architectural monuments; modernisation and adaptation of historic buildings; conservation and restoration of stone and brick walls and wooden architecture and facades; finishing works in historic buildings, including full reconstruction of architectural forms and details; creation of individual conservation works programmes and documentation of works.

Textile Preservation
Conservation of all types of fabrics: tapestries, carpets, kilims, woven wall hangings, wall and furniture upholstery, robes and liturgical vestments, clothes and their accessories, archaeological textiles and cerements, banners, flags and laces as well as preparing copies thereof.

Paper and Leather Conservation
Conservation of manuscripts on paper and parchment, old prints, musical scores, graphics, drawings, posters, advertising bills, maps, atlases, archival documents, photographs, painted and printed wallpapers, paintings on silk or paper foundation.

Painting and Sculpture Conservation
Conservation of paintings on wood, canvas, metal sheets and glass, of polychromes, sgraffitos, wooden polychrome sculptures, sculptures made of natural and cast stone, post-goldsmithery.

Wood Preservation
Renovation of artistic and historic window and door frames and execution of new doors and windows drawing on the forms of historic architecture; renovation of roofs, including wooden timber roof truss.

Metal Preservation
Conservation of craft and everyday items made of precious metals – gold, silver; semi-precious metals – copper; alloys – bronze and brass; and common metals – in particular tin, iron and lead.

Stone, Moulding and Stucco Preservation
Conservation of elements of interior decoration as well as of facades of buildings made of stone, cleaning and reconstruction of missing elements.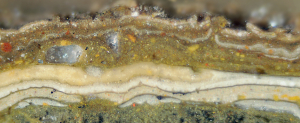 Research Laboratory
Research Laboratory offers – technological and chemical tests of historic building facades, expert appraisement on the condition of objects, the cause of damage and restoration method, checking of the original colours, stratigraphy, composition of plasters and decorative elements, definiton of the way to clean facades made of natural stones, artifical stones, or bricks, application of contemporary plasters, mortars, facade paints.
Other Non-Standard Works
We also conduct archaeological and research works and upon the customer's order we perform architectural inventories, preliminary studies. We also prepare certificates and expert opinions as well as conservatory programmes studies and cost estimates.